Learn About Duccio in Art History, View His Art and Famous Paintings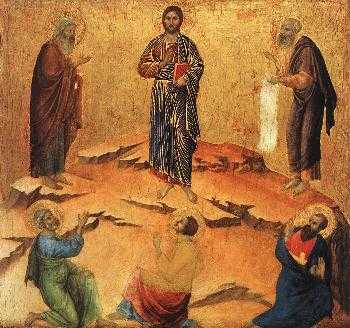 "The Transfiguration", Duccio, 1308-11


Duccio di Buoninsegna, 1278-1839, one of Italy's famous artists in art history, had a painting style that is similar to that of Cimabue. Cimabue's figures are stiff, formal, stacked and totally lack three-dimensional space, especially in his painting, "Madonna Enthroned", 1280-1311.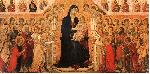 Italian artists maintained contact and were influenced by the Byzantine Empire since the early 1200's lasting until the early 1300's. The Byzantine art style influenced Italian compositions that produced angular lines, severe designs, rather geometric formats, and expressionless figures lacking thee-dimensional volume.


One of di Buoninsegna's famous paintings, "Madonna Enthroned", 1308-11, began to change this Byzantine art style. The linear angular quality of the draperies became softer revealing the figure underneath. Faces, hands and bodies became more rounded and three-dimensional space is a little more evident. There even seems to be a show of tender expression toward the Christ Child.


Duccio loosens his art style and becomes more mature as an artist in the compartment paintings painted on the back of the Maesta. In these smaller famous paintings he narrates religious stories.



In the famous painting "Annunciation of the Death of the Virgin"The figures are no longer static or flat, but have volume and facial expressions. His figures are solidly grounded in space, showing movement and gestures. The clothing is realistically hung on the figures showing the form of the body.

Although he has made a great stride putting figures inside an architectural setting and has created some depth of space, he has not mastered the size relationship of the interior rooms with the size of the figures. Di Buoninsegna was one of the first famous Siennese artists to place figures inside an architectural interior. Possibly he was influenced by Gothic sculpture frameworks putting figures inside compartments.


"Christ Entering Jerusalem", another famous painting in art history on the back of the Maesta Altar by Duccio, continues his exploration in three-dimension. Depth recession is achieved following the line of figures from Jesus Christ up through the upper gate into the city. Even though the size relationship of figures is approximately the same, depth is also created relating these figures to the figures under the central tree behind the wall. Other famous artists of the Gothic Art period are Gentile da Fabriano and Fra Angelico.


To view gallery 1, Duccio paintings, click here.

To view gallery 2, hand painted oil reproductions, click here


Click on the graphics below to increase graphic sizes. At the same you time can also view an opportunity to purchase a poster or painting reproduction.