Learn About Edvard Munch in Art History, View His Art and Famous Paintings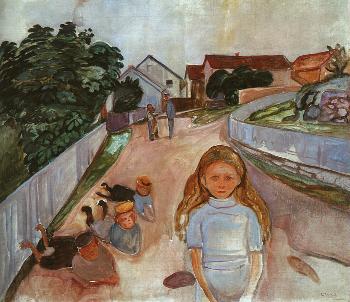 "Street in Asgardstrand", Munch, 1902



Edvard Munch, 1863-1944, Norway's most famous artist in art history, was influenced early in his career by old masters primarily Edouard Manet and a few other Impressionists. One of Munch's first famous paintings, "The Sick Child" was painted in 1885-86, a reflection of his stay in Paris and of Impressionism.

Influenced early in his life by sickness in his immediate family, his mother and one of his sisters died of Tuberculosis, he once said of his own life" Illness, madness, and death are the dark angels who watched over my cradle and have accompanied me throughout my life".

Edvard Munch began painting at a time when Impressionism had come to its full height and Norway's Henrik Ibsen gained a world literary reputation. Munch made stage designs for one of Ibsen's plays and some of Munch's art can best be understood in light of Ibsen's works.

Attempting to render a more personal relationship between painter, sitter, and the surrounding environment, Edvard Munch painted "Spring" in 1889,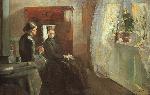 and the painting "Sister Inger" in 1892, using the free and loose brush of Impressionism. In his diary Munch wrote in 1889 that he would no longer paint compositions with men reading or women reading. He would paint living beings who breathe, feel, suffer and love.


Mood and melancholy crept into his paintings. He painted pictures of impressions left in his minds eye and of what he remembered from his experiences. He painted the emotional aspect remembered experiences. "A work of art can come only from the interior of man. Art is the form of the image formed from the nerves, heart, brain and eye of man...... Nature is not only what is visible to the eye, it also shows the inner images of the soul, the images on the back side of the eyes".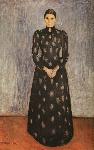 Edvard Munch's famous painting "The Scream", painted in 1893, Munch was able to reflect the anxiety of the figure in the surrounding landscape. The unstable extra terrestrial sway of the body is reflected in the contour of the landscape.


Edvard Munch's recount of the experience that led to the painting "I was walking along the road with two friends. The sunset, and the sky turned blood red.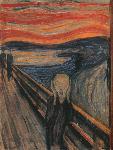 I felt a touch of melancholy, and stopped and leaned against the railing, feeling extremely fatigued. Blood-red clouds and tongues of fire were floating above the city and the blue-black fjord. My friends kept walking, but I stood still, trembling with anxiety. I felt as if I were hearing the immense, infinite cry of nature".
In 1893 and 1894 Edvard Munch painted two pictures of a theme that seemed to torment him for his entire life "Vampire", and "Puberty", a picture of a young, seemingly innocent, apprehensive, adolescent girl, defensive in her posture, pictured with her own threatening enlarged shadow hovering off to her side. In "Vampire" a man seeks solace in the arms of a woman while the woman bends to bite him on the neck. In both paintings the woman is desirable, but has an omen of danger.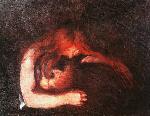 Munch was also interested in technical experiments in graphic printing. He reworked some of his themes in dry point, lithography and in woodcuts. In some of his etchings he combined etching and aquatint. In other works he combined dry point with aquatint. Many of these works were modifications of previous paintings.

Many of Edvard Munch's famous paintings have to do with his feeling that man is unable to stand against the forces of love and death. Man is alone in the world helpless against misfortune. Other famous artists of Expressionism in art history are James Ensor and Emil Nolde.

To view Best Prices' reproduction gallery of Edvard Munch paintings, click here


Click on the graphics below to increase graphic sizes. At the same you time can also view an opportunity to purchase a poster or painting reproduction.