Learn About Fra Filippo Lippi in Art History, View His Art and Famous Paintings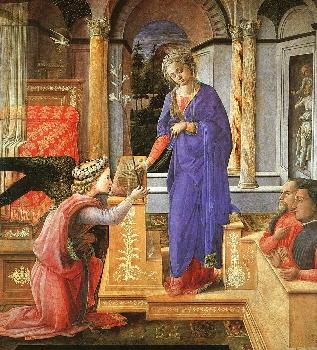 "Annunciation' Filippo Lippi, 1440


Fra Filippo Lippi, 1406-1469, one of Italy's famous artists in art history entered the Monastery of the Carmine, Florence, circa 1421. While celebrating his Masses, he became interested in the nun, Lucrezia Buti, with whom he eventually had two children. A short time later Lippi began to have contractual problems that he could not pay.

If Fra Filippo Lippi had problems with ecclesiastical authority he now had greater problems concerning the local Florentine secular authority. Lippi was tried in relation to his contractual obligations, put on the rack, and actually tortured. A member of the Medici family eventually saved Lippi from further punishment. He finally left the Monastery, but continued to sign his name as Frater Philippus.

Filippo Lippi's artwork "Madonna and Child with Saints and Angels", painted in 1437, resides in the Louvre, Paris.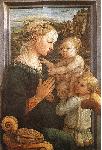 As in some of Masaccio's famous paintings Fra Filippo's figures are heavily weighted, and strongly articulated by chiaroscuro (light and shadow). He continued the central pyramid figure groupings influenced by Masaccio and Brunelleschi's scientific art perspective.


Probably for the first time in Italian painting the halos of the Madonna and Child are transparently rendered instead of the usual, solid, metallic look. In the "Madonna and Child with Saints and Angels" Fra Filippo Lippi painted a portrait of himself, face only, seen just above the lamp in the far left rather dark middle ground.


Another famous painting, "Madonna and Child", 1455 can be seen in the Uffizi Gallery, Florence.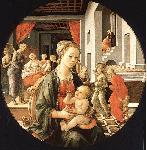 The portrait reflects a new physical ideal in Lippi's art seen in the softly rendered forehead of the Madonna, and in the delicate lace forming a peak coming out from her hairline. Her hair is softly intermixed with a thin transparent veil crowned with a pearl.


Another of Fra Filippo Lippi's famous paintings in art history, "Madonna and Child", a tondo, was painted in 1452. It has a strong scientific perspective composition seen in the marble squared floor, the coffered ceiling, the rectangle pillar and stairs. The pyramidal Madonna and Child soon to become part of a standard composition in the Renaissance period even conform to the orthogonal lines of this perspective. The Christ Child holds a red pomegranate a religious symbolism of the "blood of Christ". Other famous artists of the Gothic art period are Masaccio and Cimabue.


To view the entire gallery of Fra Filippo Lippi, click here.


Click on the graphics below to increase graphic sizes. At the same you time can also view an opportunity to purchase a poster or painting reproduction.