Learn about Giovanni Bellini in Art History, View His Art and Famous Paintings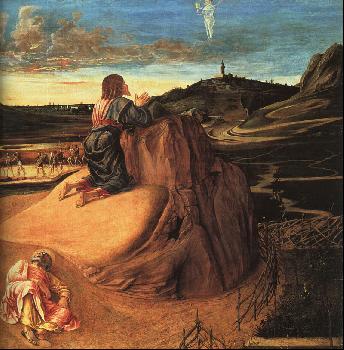 "Agony in the Garden", Bellini, 1465


Giovanni Bellini, 1430-1516, one of Italy's famous artists in art history painted the painting "Agony in the Garden" in 1465-70, seemingly influenced by his brother-in-law Andrea Mantegna and one of his famous paintings "Agony in the Garden"1460.


Bellini's figures are hard crisp and linear. His color palette mostly earth tones of a pre-dawn morning. Judas leads a group of soldiers in the middle background, and three have fallen asleep in the foreground. Jesus Christ is in the middle ground thinking about the transparent angel with a chalice of pain he will be receiving.


Bellini's painting "Enthroned Madonna", late 1480's, shows his ability to paint on a grand scale. His composition has a low vanishing point with a one third to two thirds relationship between the figures in the foreground and the huge vast architectural shape of the church in the background.

What is new in the "Enthroned Madonna" is that Bellini not only gives us the true size relationship of figures to figures, and figures to architecture, as Piero della Francesca did in his art, but he gives a perfect relationship of people inside a structure.

Giovanni Bellini's landscape paintings in the later 1470's and in the 1480's show vast, wide-open landscapes said to show his belief in Pantheism, God in nature.

In these art works, and in particular Bellini's famous painting in art history "Transfiguration of Christ", he developed a more gentle and moody feeling based on figures in quiet poses, with natural light.


Other famous artists in the Renaissance period are El Greco and Pieter Bruegel the Elder.

To view the gallery of Giovanni Bellini paintings, click here.


Click on the graphics below to increase graphic sizes. At the same you time can also view an opportunity to purchase a poster or painting reproduction.