Learn About James McNeill Whistler in Art History, View His Famous Paintings

"Harmony in Green and Rose: The Music Room",
Whistler, 1860-61


James McNeill Whistler,1834-1903, one of America's famous artists in art history, painted one of his most famous paintings "The White Girl"(or "Symphony in White No. 1), painting in 1862.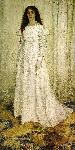 The "White Girl" was an early indication of the coming Impressionist period, and when the Salon des Refuses exhibition opened in 1863, the work of art was almost totally despised.The word tag word "Impressionism" was a derisive name applied to the exhibition and it's artists after it opened, named after Claude Monet's painting submission, "Impression Sunrise".


Another famous painting of James McNeill Whistler's is his painting, "Arrangement in Gray and Black", a profile portrait of his mother painted in 1871. He preferred to call the art "Arrangement in Gray and Black" because "that is what it is".

He despised artists who painted and represented nature exactly the way they saw it. If this kind of person is an artist then the best artist is a photographer. Looking backward through time from the present day, this statement relates closer to the modern abstract art painters than it does to Impressionism.


In 1874 James McNeill Whistler painted "Nocturne in Black and Gold". Naming his artwork, he visioned his paintings in terms analogous with music, such as symphonies, and nocturnes. Nature to Whistler contained all the elements of art and needed to be synthesized through his inner thought separating himself from merly copying Nature. What Whistler painted was his emotional response to things he saw in Nature, not Nature itself as it realistically existed.


Another one of James McNeil Whistler's famous paintings in art history, "Nocturne in Blue and Gold"was painted in 1877.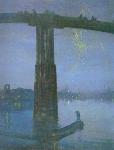 As Whistler saw it, the city skyline and bridge is painted in simplified form, because that was all a person can see at this time of the evening. His intent was not to paint an exact replication of the bridge, but an impression of the bridge, a harmony of color, and an arrangement of shapes.


As one of America's famous artists living in Europe, James McNeill Whistler painted "Lagoon Venice: Nocturne in blue and Silver", in 1879-80. The painting isn't as much a representation of the lagoon as it existed the night Whistler saw it, but a representation of how he remembered the lagoon and then painted it. He synthesized the reality of the lagoon and how it looked with his memory of it.


To view the entire gallery of James McNeill Whistler paintings, click here.


Click on the graphics below to increase graphic sizes. At the same you time can also view an opportunity to purchase a poster or painting reproduction.