Learn About Marc Chagall in Art History, View His Art and Famous Paintings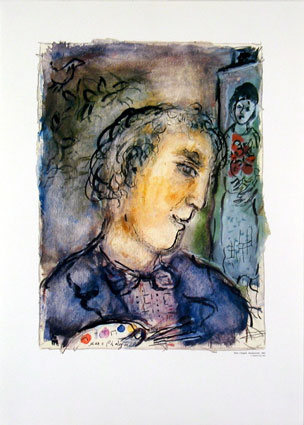 "Auto Portrait", Chagall, 1965


Marc Chagall, 1887-1985, one of Russia's famous artists in art history, painted one of his famous paintings "I and My village" in 1911. This painting and many other Chagall artworks seem to be pictures of fantasy and fairy tales, terminology he despised.


Whether an image was a cow or a milkmaid made no difference to Chagall, they were images, only part of a composition. The subject of an art painting was not important but its essence and atmosphere was. Marc Chagall had many remembrances from his childhood in old Russia before the Revolution, and those images he regularly put into his artwork. The Russian paintings were mostly genre scenes using fauvist color in constricted space compositions.

Describing the milkmaid seen inside the cow's muzzle in "I and My Village" Chagall explained he "needed that sort of form, there, for my composition. Whatever else may have grown out of these compositional arrangements are secondary." Cows, milkmaids, roosters, violinists and other images were used in Marc Chagall's paintings because again they were part of his Russian environment growing up as a child. He hoped to retain the flavor and influences of his childhood in all his artwork.

In another one of Chagall's famous paintings, "The Falling Angel", 1923, 1933, and 1947, Chagall symbolizes images of people just before the advent of World War Two.
He seems to have a foreboding of something ominous coming historically. Chagall painted a flaming angel falling to earth, a tired figure leaving his village, another man protecting the Torah. Everything seems to be without hope for these people until Chagall places two symbols of hope in the lower right corner of the painting, a sacred candle and a crucifix. This kind of subject matter appeared in his artwork throughout the 1940's generated probably from religious persecution.

Marc Chagall's artwork has Surrealist elements. Realism was on the downside and the new Surrealist movement was a reaction to current traditional realist trends. Viewed as a forerunner of this movement, Chagall was asked if his art had any relation to the surrealists. "I would be alarmed to think I had conceived them (his paintings) through automatism (a free expression of the unconscious mind)." He felt art should be a result of the artist's entire being, not based on one system such as automatism engendering more automatism. Other famous artists of Twentieth Century paining in art history are Picasso and Salvador Dali.


To view the gallery of Marc Chagall paintings click here


Click on the graphics below to increase graphic sizes. At the same you time can also view an opportunity to purchase a poster or painting reproduction.