Learn About Odilon Redon in Art History, View His Art and Famous Paintings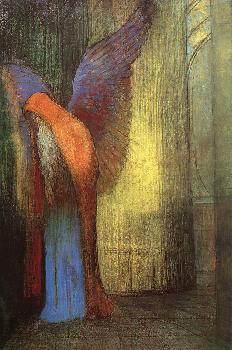 Odilon Redon "Winged Old Man with a Long White Beard



Odilon Redon, 1840-1916, Symbolism, one of France's famous artists in art history, first began rendering art as a child in Bordeaux. He remembers seeking out dark corners in his home as a sort of refuge from a violent world. It was here in an old manor house he created his charcoal noirs (black pictures) possibly reflecting his thoughts and emotions toward the real world.


Reflecting on a visit to Paris and it's museums as a young boy "My eyes are full of nothing but depictions of violent life, of an excess of life; that was the only thing which struck me".

He was a student of Stanislas Gorin who began his development as an artist observing nature. As a young artist, black and white drawings seemed to be the most expressive way for him to reveal the power of his own sensitivities. Taught to render nature perfectly early on as an artist Odilon Redon " often tried in the beginning to reproduce objects of the exterior world according to the rules of art.....

But now in my maturity, I declare, indeed insist, that all my work is limited exclusively to the resources of chiaroscuro. It also owes a great deal to the effects produced by the abstract character of line....Suggestive art can fulfill nothing without going back uniquely to the mysterious play of shadows and the rhythm of imaginatively conceived lines.

Rendering an object true to nature seemed somewhat tedious to Odilon Redon. His artistic process was a kind of a means to an end where he eventually became excited and his emotional creativity took over the process. This seems to be the point where the real world and the dream world converged in his art.


At this point "I need to create, to give myself over to representations of the imagery. Thus blended and infused, nature becomes my source.....I believe that this is the origin of my true inventions". His creativity exists "in causing improbable beings to live in human fashion according to the laws of the probable".

Responding to a challenge that the flowers he had painted in one of his compositions did not exist in real life Redon replied, "I didn't invent them - I see them that way".

Odilon Redon was frustrated that critics kept on seeing his art in terms of symbolism and meaning. Redon combined various recognizable elements in his artwork that had no relationship to each other in order to seed the imagination of the viewer and to power that imagination in any direction a person chose.

Titling a work of art was redundant. "My drawings inspire and do not offer explanations.....Further explanation could hardly make the fact any clearer that they (his drawings and paintings) are the reverberations of a human expression, that, by means of the license of fantasy".

Even though Odilon Redon would probably not want to be part of the Symbolist movement, art history has put him in this category. Other famous artists of symbolism are Gustav Moreau and Max Klinger.


To view the entire gallery of Odilon Redon click here


Click on the graphics below to increase graphic sizes. At the same time view an opportunity to purchase a poster or painting reproduction.