Learn About Pablo Picasso in Art History, View His Art and Famous Paintings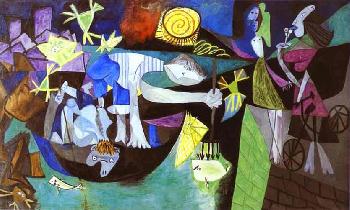 "nightfishing2", Pablo Picasso


Pablo Picasso, 1881-1973 one of Spain's most famous artists in art history, painted in many different artistic styles throughout his lifetime. He created an enormous amount of art and his range was incredible. He would stay with a style a few years and then abruptly change, going back to some of his older styles, reworking them, and bringing new life to period works where ideas were thought to be exhausted.

One of Picasso's famous periods is his "Blue Period", and one his most famous paintings of the "Blue Period" is "The Old Guitarist", 1903, influenced by the elongated figures of El Greco.

In 1905, the "Blue Period" ended and the "Circus Period" started, followed by the "Rose Period". He went from an artistic style that evoked sympathy, pity and sorrow in "The Blue Period" to one that is charming and delightful seen in the art"La Toilette", 1906.

Influenced by the geometrical spatial abstraction of Paul Cezanne and African sculpture, Pablo Picasso painted another famous artwork Les Demoiselles d' Avignon", in 1907. The Cubistic period is thought to have begun with this painting.


The composition is seemingly discordant, pulled together by the angular relationship of lines and heavy highlighted facets reminiscent of El Greco's, "Burial of Count Orgaz", 1586. The "Demoiselles", despite its seeming disharmony and abstraction, is objective to nature in that it still represents nature to a certain extent; nature that is distorted but still recognizable.

Pablo Picasso painted the "Female Nude", in 1910-11. The art style is "analytical Cubism", where natural objects found in nature are subjected to a systematic distortion that rejects space and depth. Objects are recorded picturing two views at the same time on the same plane, a frontal view and a side view. Following this line of thought, a profile view of a head can meld into a frontal view of the same head, and be seen together as only a frontal view of a head. This is called the fourth dimension of painting.
In 1912, Pablo Picasso was painting and creating in yet another art style when he created his famous artwork, "Still Life with Chair Caning", an advance in style called "Synthetic Cubism". This method is constructing a composition by the method known today as "Collage". Synthetic Cubism assembles forms together in a composition, where objects may or may not have a seeming relationship with each other. The assemblages can range from newspaper clippings, to wrappers, corrugated cardboard or any found object. The objects could be painted upon or allowed to retain their original identity. The actual layered build-up of these objects then became the third dimension in art, that up until this time in painting, was rendered using three point perspective.

Two works painted toward the end of Synthetical Cubism were called "Three Musicians", in 1921.

Shortly afterward Pablo Picasso painted the "Standing Nude", 1922, returning to a figural, more naturalistic, monumental, and classical representation. His figures are full, heavy, and volumetric. "Standing nude" is a style opposite his earlier cubistic paintings. Although the figure is more realistic to nature, the arms, legs, and hands have been oversized and exaggerated.

In 1932 another style emerged influenced by Cubism, "Girl before a Mirror". The lines are not faceted or angular as in his earlier art works, but oval and smooth, sometimes lined heavily in black. The simultaneity of early Cubism is brought back and worked into a simple decorative composition.

One of Pablo Picasso's most famous paintings in art history is "Guernica", painted in1937 in response to the horrific bombing of Guernica, shortly before World War II. Germany supported General Franco in this Spanish civil war that lead eventually into World War II.


On the left side of the painting is a bull, symbolizing triumphant violence; below a woman shrieks holding her dead baby. Moving to the right is a terrified horse standing among bodies and severed extremities, one detached arm is still holding a broken sword. On the far right, the building is burning and a screaming figure is falling through the flaming floor. Picasso was so incensed by the bombing that it only took him two weeks to complete this artwork that measured 11 1/2 x 25 2/3 ft.

Pablo Picasso, one of the twentieth century's most famous artists, continued to change his methods and style of painting. As mentioned earlier he would return to his earlier works and transform them in experimentation. He experimented with his art taking an idea and seeing how far he could carry it. This technique and methodology many artists use today.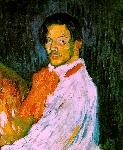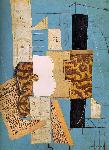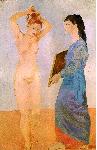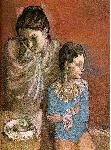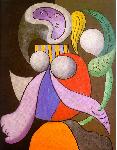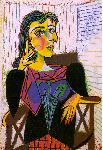 To view Gallery Two Picasso paintings click here