Learn About Paul Gauguin in Art History, View His Art and Famous Paintings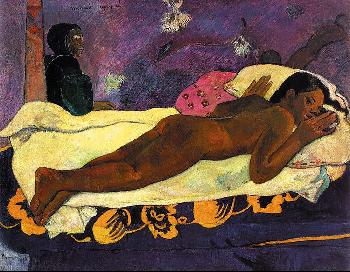 "Spirit of the Dead Watching, Gauguin, 1892


Paul Gauguin, 1848-1903, one of France's famous artists in art history painted one of his first famous paintings "Jacob Wrestling with the Angel", in 1888, moving to Pont Aven, France. Creativity was important to Gauguin, "The only to rise toward God is by doing as our Divine master does, create". He felt color must be expressive and that and artist must be able to choose his own colors regardless what nature dictated to him.


He did just that in "Jacob wrestling with the Angel". He painted art using flat areas of vivid color reducing detail to the minimum. The painting isn't a replication of nature, as one would see it, evidenced by the ground where Jacob is wrestling painted red.

The art landscape isn't rendered as Nature created it but rearranged by Paul Gauguin to fit his expressive emotion. Gauguin paints an arrangement of forms and color on a picture plane that has no relation to three-dimensional perspective.

The size relationship of the cow on the upper left portion of the painting is too small compared to other objects nearby, a fact almost completely obscured by the impact of the solid forms generated by the large foreground women.



The cow is used for compositional balance purposes, reflecting the abstract leaves forms on the other side of the tree. Paul Gauguin's objective in this art painting, and in his later Tahiti works, is to transform the Impressionist style of painting through color, simplified abstract forms, and image arrangements.
This new art style is seen in "Women in a Garden", 1888, painted shortly after going to Arles to visit Van Gogh.

Back in Pont Aven again after a falling out with Van Gogh, Gauguin painted one of his most famous paintings in art history"Self Portrait with Halo" in 1889, artwork utilizing broad areas of flat vivid color indicating Gauguin's future direction.

Maurice Denis writing in "Definition of Neo-Traditionalism", 1890, states Paul "Gauguin freed us from all the restraints which the idea of copying nature had placed on us. For instance, it was permissible to use vermillion in painting a tree which seem reddish . . . Why not stress even to the point of deformation the curve of a beautiful shoulder or conventionalize the symmetry of a bough.


In 1891, Paul Gauguin painted "Ia Orana Maria". The painting is another arranged ornamental composition, influenced by a bas-relief, from a Javenese temple.


One of Gauguin's more famous paintings in art history, the Mysterious painting, "The Spirit of the Dead Watching", 1892, was painted in reference to a fear his wife encountered lying on her bed in the dark, waiting for his return.

Gauguin used colors related to the fear his wife expressed. He attempted to transfer his wife's emotion through color in his art, to the viewer and achieve the same reaction. Fear of dead spirits reflected a prevalent view among most native people. Other famous artists of the Post Impressionism in art history are Vincent van Gogh and Paul Gauguin.


To view the entire gallery of Paul Gauguin paintings, click here.


Click on the graphics below to increase graphic sizes. At the same you time can also view an opportunity to purchase a poster or painting reproduction.