Learn About Wassily Kandinsky in Art History, View His Art and Famous Paintings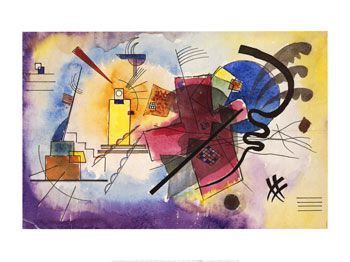 "Project for Yellow, Red, Blue, Wassily Kandinsky, 1910


Wassily Kandinsky, 1866-1944, one of Russia's famous artists of art history, co-founded "Der Blaue Reiter" (The Blue Rider), a group of German abstract expressionists. Subject matter in the groups' paintings is non-objective primarily meaning that there is no recognizable form in the composition and that the artwork rendered did not originate in nature and then be abstracted.

"Form is the outer expression of the inner content"... it is "that which he (the artist) feels compelled to proclaim... the spirit of the the individual artist is mirrored in the form. The form bears the stamp of the personality".



In Wassily's painting "Improvisation 31" he deliberately failed to name the painting with a representational name to further distance himself any idea of subject matter. "The most important thing in the question of form is whether or not the form has grown out of inner necessity".

Other paintings Wassily Kandinsky titled "Compositions" and "Improvisations". The first title refers a painting with a pre-conceived composition, such as the painting"Composition VII".

The second title, "Imkprovisation", means the painting has no pre-concieved constrictions as in Kandinsky's painting "Improvisation 35".

In this manner Wassily comes close to Salvador Dali and Surrealism's automatism, the act of releasing the expression of the unconscious mind from the control of the conscious mind.


Kandinsky painted another of his famous paintings in art history "Color Studies". Commenting on color in "The Effect of Color", 1911, quoted in "Theories of Modern Art" by Herschel B. Chipp, the eye of the observer "is stimulated as the tongue is titillated by a spicy dish...




The eye is strongly attracted by light, clear colors, and still more strongly by colors that are warm as well as clear; vermillion stimulates kike flame...Keen lemon-yellow hurts the eye as does a prolonged and shrill bugle note the ear, and one turns away for relief to blue or green".

Other artists in the The Blue Rider group with Wassily Kandinsky were Franz Marc and Paul Klee.


Click on the graphics below to increase painting sizes. Purchase a poster or painting reproduction.





Click on the graphics below to increase graphic sizes. At the same you time can also view an opportunity to purchase a poster or painting reproduction.